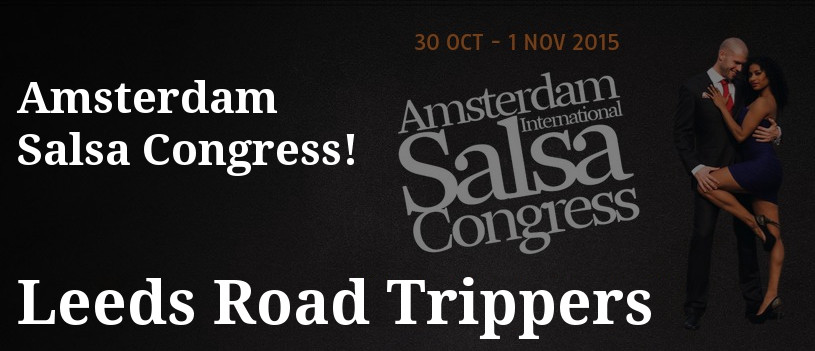 Leeds Roadtrippers Facebook event
Amsterdam Salsa Festival official website

Until a few weeks back I was very very sad that I will not be able to go to Warsaw Salsa Festival, which is the best salsa festival that I have ever been too. I was going to miss out on an amazing line-up of instructors including Frankie Martinez, who I'm yet to do any workshops with!!

But, the Salsa Gods must have noticed my good deeds and, by divine intervention, I was led to the Amsterdam Internal Salsa Congress's website!!
The homepage had a photo of Frankie Martinez!! Interesting... A second chance! I clicked through to the Artists page and was blown away by the lineup! How did this pass under my radar!! Eddie Torres, Adolfo Indacochea, Frankie Martinez, Terry and Cecile, Adrian and Anita, Ronald and Vivienne, Leon Rose Project... The decision was made!! I then checked the pass prices and was in for another pleasant surprise!! 90 Euros for a Premium Full pass (April rates)!

The last time I went to Amsterdam International Salsa Congress was in 2013 and I came back very happy! Amazing dancers, superb music, awesome workshops and the good old Amsterdam Coffee Shops! Landed in Amsterdam on Friday night and was back at work on Monday morning after attending the last party. Gotta love the frequency of KLM flights!! I stayed at the Meininger Hostel next to the Sloterdijk station which was about a mile on foot from the main venue. I'm planning to do the same this year.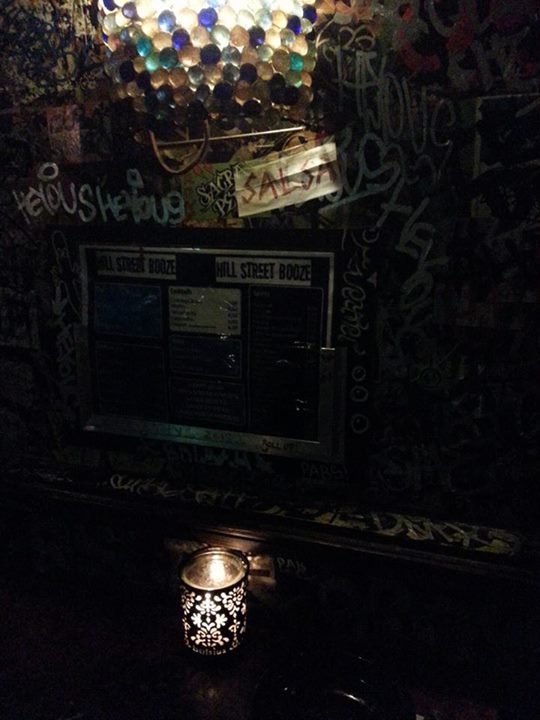 I must remember to visit Hill Street Booze again this year to see if my Rizla from two years back is still there!!


For those going to this festival for the first time, here are some suggestions:
Flights
KLM operate 4-5 flights daily from Leeds Bradford Airport to Amsterdam and the last time I checked they were between £80-£100 depending on which exact dates and times you choose. I'm considering flying out on the 10:15 flight on Thursday 29th October and return on the 21:10 flight on Monday 2nd November. The current price (6 May) is £86 for a return ticket.

Airport to the venue
The best way to get from Amsterdam airport to the venue is by train. We have direct trains from the Airport to Amsterdam Central and then one change to get to Amsterdam Sloterdijk. It should cost roughly 5-6 Euros to get from the airport to Sloterdijk.
Accommodation
The official hotel for the congress is the Ibis Amsterdam City West. The organisers have arranged a special discount with them - 80 Euros for a double/twin room and 105 Euros for a triple room.
How to book your room at Ibis Amsterdam City West
Some people didn't find the information on the official congress website very clear about the booking procedure and ended up booking via booking.com etc. at the full price. So here's what you need to do:

1) Download the official booking form by clicking here (Its a safe link to the official festival website).
2) Download and install a free pdf editor if you don't already have one. I use AbleWord.
3) Open the form with the PDF Editor and enter your personal information and payment information.
4) The form says "Reservations for the Ibis Amsterdam City West - Salsa Event (refnr: 364102 ) from the 30th of October 2015 till the 1st of November 2015 at Hotel Ibis Amsterdam City West". "1st November" is probably an oversight. If you would like to stay there from Friday night until Monday morning like most of the group, you can specify the arrival date as 30th October and departure date as 2nd November. Thats what the rest of us have done and it worked.
5) The form also doesn't mention triple rooms clearly. If you need a triple room, just write "triple room" in the "kind of room" column. The prices are 80 Euros for a twin and 105 Euros for a triple per room per night. Triple rooms might have got sold out though, so please call/email them to check.
6) After you've filled up the form, please email it to This email address is being protected from spambots. You need JavaScript enabled to view it. as it says at the top of the form.
7) If you don't get a reply within 48 hours, or would like to check about availability of rooms, please call them on +31205811111 via skype or some other cheap calling service. The hotel seems to be a bit slow to respond by email but are very helpful over the phone.
8) If you've got any more questions please post on the Facebook event and we'll try and get it sorted.

*Please note that Meininger hostel was sold out of bunk bed rooms before we could book. All of us so far have booked at Ibis Amsterdam City West
The other option is to stay at the Meininger Hostel which is about a 10-15 min walk to the party venue. The rates are between 15 and 18 Euros for a bunk bed in a 6/7 bunk room. It will probably be a better option to make a group booking together for whole 6/8 bunk rooms. The hostel is pretty amazing and feels more like a 4* hotel with bunk beds than a typical hostel.
Workshops
The workshops this year are at a separate location which is about a 15-20 min walk or a short taxi ride from Meininger. I did think about it as this makes the whole thing slightly inconvenient compared to when everything is within one hotel as we're used to. But the stellar line-up of instructors and the super cheap passes more than make up for this!
Booking with the Leeds Road Trippers
The organisers have offered a group discount to Leeds Road Trippers and one free pass for every 10 passes bought through the group. The money from the 11th (free) pass will be split between the first 11 people who book. Same for the next 11 passes if we do get a huge group! Please see the Leeds Roadtrippers Facebook event or contact me (Rahul) via facebook or on 07787422579 for more info. If you've decided to join us, please contact us as soon as possible so that we can coordinate the accommodation and flight bookings. Prices for the congress passes go up on the 1st of every month.

With 9 people already booked from the Leeds Roadtrippers, this is shaping up to be an amazing crazy weekend in Amsterdam!!