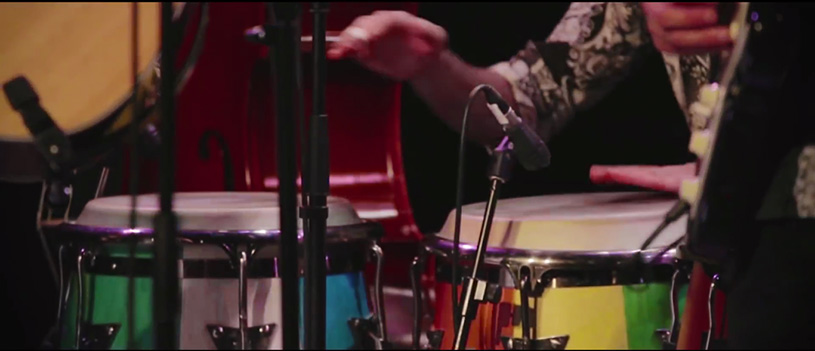 Dancing to a live band is as close as it can ever get to an out of body experience on a Salsa dancefloor. You feel immersed in the music, so alive in that very moment and compelled to dance. The horns, the congas and the wild timbales, the sounds keep hitting your body like pulses of energy, making you want to move and dance. For some it's a totally different level of experience, almost spiritual. No wonder the Cuban music and dance, that Salsa has evolved from, are rooted in spiritual customs and traditions.

Personally, I love dancing to live bands and have travelled to amazing places like Istanbul, Croatia, Berlin and many more to dance to amazing live Salsa music. I would never have seen Tadcaster if it wasn't for live Salsa music! We in Leeds have been lucky to have DJ Lubi who has been bringing Live Salsa to the city for more than 25 years now!! My first ever experience of Live Salsa was at the Leeds Loves Latino weekend when Lubi brought Salsa Celtica to the city.


Here are a few words from DJ Lubi Jovanovic, the Godfather of Leeds Salsa!


"W
e are pretty spoilt in Leeds for live salsa and Cuban music. We now have about 5 bands here - Mambo Con Rumbo, Orquesta Leodis, Tarantismo plus the community bands Los Camaradas and Salsa Como Loco and sometimes Cuban singer Kiki Sire's band. We get top London bands visiting Leeds regularly - Salseology, Sexteto Cafe, La Rebellion, Son Yambu, Jesus Cutino etc. And of course live international bands. In the last few years we've had La Excelencia (twice), La-33, Herman Olivera, Tromboranga. It's a tradition of live salsa which goes back in Leeds to around 1990. In the last 25 years we've had gigs here from Jimmy Bosch, Wayne Gorbea, Tito Allen, Alfredo de la Fe, Issac Delgado, Manolito y su Trabuco, Johnny Polanco, Alex Wilson, Salsa Celtica, Charanga Habanera, Grupo Sierra Maestra and tons I've forgotten about. Leeds really is "La capital de la Salsa vivo" outside of London. Just such a risk these days putting live bands on, especially international ones."
- DJ Lubi Jovanovic.
Upcoming Live Salsa gigs
Here are the top three upcoming Live Salsa gigs that Salsa dancers can't affort to miss. No surprise that they are all being organised by DJ Lubi and DJ Fabio!


Orquesta Leodis

Saturday,
30th May
Belgrave Music Hall, Leeds City Centre.
Tickets: £10 advance
Please see the Facebook event for more information

Leodis used to be the victorian name for the city of Leeds, so this is a truely local band. They've brought together some of the best musicians from Leeds who are also familiar faces on the dancefloor
. They are a relatively new salsa band and had their debut performance in February 2014, which I thoroughly enjoyed! Of course, I was the last person to leave the dancefloor at the end of the night.
The band will be onstage at 10:45pm, so please start your pre-parties early!! You can e
xpect to hear classic Big Apple style hard salsa and mambo songs and arrangements, keeping alive the incendiary and raw sound of 1970s Latin New York.
After the band, DJs Lubi, Fabio and Philip Charles will be playing some cracking tunes to keep us dancing until 3am.
Here's a video of them playing Lloraras by Oscar De Leon at their debug gig

Mambo Con Rumbo
Saturday, 27 June
Belgrave Music Hall, Leeds City Centre
Please follow DJ Lubi on Facebook to find out when tickets go on sale!


Mambo Con Rumbo is probably the most well known local band from Yorkshire and have played all over the UK and were the highlight of the Friday night opening party at the Scottish Salsa Congress 2015. I first heard them at a charity gig they performed at the old Bar Risa back when Nicolai and Helena used to run their big Thursday Salsa nights there. We all have some special unforgetable moments in our lives that keep playing back like a video montage in our minds. Dancing at Bar Risa that night with Lesley Sharp singing her heart out on stage is one of those moments for me. The band has evolved a lot since then and is now Mambo Con Rumbo - The Next Generation.

I love how they've described their music on their website and I totally agree -

"A salsa night with Mambo con Rumbo mixes original music with all your favourite salsa classics - from Tito Puente to Marc Anthony.

If it's overindulgent muso noodling and ten-minute percussion solos you're looking for, you've come to the wrong place. But if it's a full floor of hot and happy salseros you're after, come and see us soon."


Mambo con Rumbo performing at the Scottish Salsa Congress earlier this year

Salseology

Belgrave Music Hall, Leeds City Centre
Please follow DJ Lubi on Facebook to find out when tickets go on sale!

Without a doubt my favourite Salsa band from the UK! They perform 3-4 times a year at TNT's Salsaseology Live Music Socials at The Dome in London. That's one event I would never miss for anything and I've had the most amazing experiences dancing to them Live there. The energy at their gigs is unbelievable until you experience it yourself. Their version of Tommy Olivencia's Trucutu is the best I've ever heard. They've been playing at the Mambocity 5* Salsa Congress for the last few years now and also played at the MotionCity weekender in Birmingham last year. Lubi and Fabio have been bringing them to Leeds every year for the last 3 years at least and I'm glad they are back yet again!! This is the big one that I'm waiting for this year and very happy that its the weekend before the Leeds crew flies off to the Amsterdam International Salsa Congress! Could easily have been a bad clash of dates!

Tickets for the Salseology gig aren't on sale yet as all this is strictly insider info that DJ Lubi has kindly agreed to share! So save the date!!

See if you can spot some Leeds dancers in this video at Salseology's gig in London!




Viva La Musica!!!